New featured Item: Stanley Belt (Jerry Lewis) bellhop jacket worn in "The Patsy"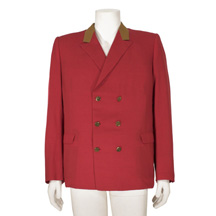 This red bellhop's jacket was worn by "Stanley Belt" (Jerry Lewis) in the 1964 comedy film "The Patsy". The jacket was custom made for Jerry Lewis by Sy Devore and has the original tailoring label sewn inside listing his name and production date. A classic piece of Hollywood history!
CLICK HERE FOR MORE DETAILED IMAGES AND PURCHASING INFORMATION
Leave a Reply
You must be logged in to post a comment.