Featured Item: Charles Markham (John Wayne) double breasted jacket worn in "Pittsburgh"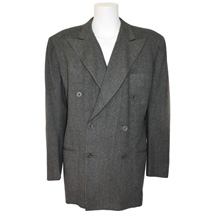 This double breasted suit jacket was worn by "Charles 'Pittsburgh' Markham" played by John Wayne in the 1942 classic film "Pittsburgh". The jacket was custom made for Mr. Wayne and has the original Phelps Terkel tailoring label sewn inside with Wayne's name and the date "4/12/41" clearly typed. A signature piece of wardrobe from a true Hollywood legend!
CLICK HERE FOR MORE DETAILED IMAGES AND PURCHASING INFORMATION
Leave a Reply
You must be logged in to post a comment.