Featured Item: Caleb Adams (Alan Ladd) period frock coat worn in "Santiago"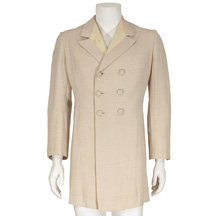 Western fans: This period frock coat was worn by the character "Caleb Adams" played by Alan Ladd in the classic 1956 film "Santiago". The garment is complete with the original Warner Bros. label sewn inside listing the actor's name and production date. An authentic signature piece worn by a true Hollywood legend.
CLICK HERE FOR MORE DETAILED IMAGES AND PURCHASING INFORMATION
Leave a Reply
You must be logged in to post a comment.