New Featured Item: Sherry Palmer (Penny Johnson) "death" suit worn in Season 3 of "24"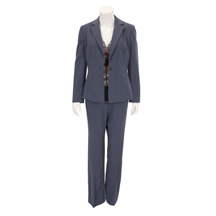 This "bloody" costume was worn by the character "Sherry Palmer" (Penny Johnson) in Season 3 of the hit television series "24" starring Kiefer Sutherland. This was Palmer's "death" costume worn in the climax of Episode 3 when Sherry was shot and killed onscreen by "Julia Milliken" (Gina Torres).
CLICK HERE FOR MORE DETAILED IMAGES AND PURCHASING INFORMATION
Leave a Reply
You must be logged in to post a comment.