New Featured Item: John Brennan (Russell Crowe) complete costume worn in "The Next Three Days"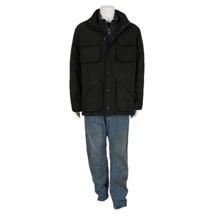 This costume was worn by  the character "John Brennan" (Russell Crowe) in the suspense thriller "The Next Three Days". The costume was partially hand distressed by costumers for its use in the scene where Crowe's character gets jumped and beaten in an alley while trying to organize a prison break attempt for his wife.
CLICK HERE FOR MORE DETAILED IMAGES AND PURCHASING INFORMATION
Leave a Reply
You must be logged in to post a comment.