New Featured Item: Screen used "Nrvous" license plate from "Ferris Bueller's Day Off"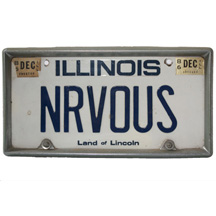 This "NRVOUS" license plate was used in the classic John Hughes film "Ferris Bueller's Day Off" starring Matthew Broderick as "Ferris". The plate is a signature piece from the movie and is accompanied by a signed letter of authenticity from one of the film's property masters, who retained the item in his personal possession after filming had been completed.
CLICK HERE FOR MORE DETAILED IMAGES AND PURCHASING  INFORMATION
Leave a Reply
You must be logged in to post a comment.