New Featured Item: Matthew Broderick's "Ferris" chair back used on set for "Ferris Bueller's Day Off"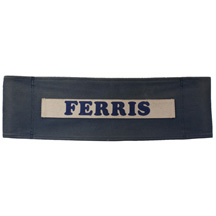 This chair back was used by actor Matthew Broderick during filming of the classic John Hughes film "Ferris Bueller's Day Off". The blue canvas chair back was custom made for the actor's use and has the character name "Ferris" on one side and "Matthew Broderick" on the other. Accompanied by a letter of authenticity from one of the film's property masters.
CLICK HERE FOR MORE DETAILED IMAGES AND PURCHASING INFORMATION
Leave a Reply
You must be logged in to post a comment.