New Featured Item: "Officer Don" (Wayne Knight) police uniform from "3rd Rock From The Sun"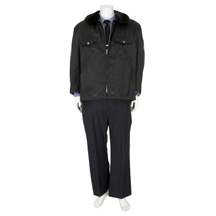 This "Rutherford P.D." officer's uniform was worn by "Officer Don" on the hit comedy series "3rd Rock From The Sun" starring John Lithgow and Jane Curtin. The jacket and shirt are both complete with the original "Rutherford" custom patches as seen in the series and the garments are all in exceptional screen used condition.
CLICK HERE FOR MORE DETAILED IMAGES AND PURCHASING INFORMATION
Leave a Reply
You must be logged in to post a comment.