New Featured Item: Cleopatra (Elizabeth Taylor) Egyptian goblet from "Cleopatra"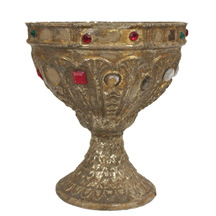 This Egyptian style prop goblet was used in the classic 1963 film "Cleopatra" starring Elizabeth Taylor and Richard Burton. The goblet was one of a limited series that were custom cast for use in the production. Taylor and Burton were also pictured in front of a metallic "Hero" version of this style goblet on the cover of the April 1962 issue of Life Magazine.
CLICK HERE FOR MORE DETAILED IMAGES AND PURCHASING INFORMATION
Leave a Reply
You must be logged in to post a comment.