New Featured Item: "Gorgeous Woman" (Carmen Electra) bikini from "Barry Munday"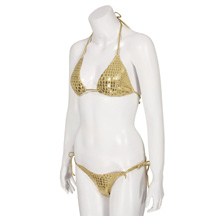 This bikini was worn by the "Gorgeous Woman" character played by Carmen Electra in the film "Barry Munday". The outfit consists of a gold 2 piece bikini by Beach Bunny, pair of matching Aldo shoes, and gold hoop earrings and has the original costumer's tag attached.
CLICK HERE FOR MORE DETAILED IMAGES AND PURCHASING INFORMATION
Leave a Reply
You must be logged in to post a comment.