THE FRANK SINATRA COLLECTION
This month The Golden Closet is proud to present "The Frank Sinatra Collection" featuring rare and iconic memorabilia used by the legendary entertainer. The items are being offered by Sinatra's personal costumer and longtime friend, Michael Castellano, who replaced Sinatra's previous personal aid, Eddie Fitzsimmons, in 1976.

Mr. Castellano quickly became Sinatra's "right hand man" in addition to maintaining his stage and personal wardrobe collection while traveling around the world for performances and public appearances. Key items from the collection include Sinatra's personal briefcase with his name embossed in gold on the side, his Dopp kit (toiletry bag), and a prescription medication bottle.

A centerpiece from Mr. Castellano's collection is his "Living Well Is The Best Revenge" jacket, which was custom made at Sinatra's request and given only to his closest friends and associates. The jacket was an all-access pass to Las Vegas casinos and resorts, and essentially acted as a key to the city in Palm Springs.
Custom clothing worn during Sinatra's live performances are also being offered, along with a stage used wooden stool from his 1980 concert at the Maracana Stadium in Rio de Janeiro, Brazil. The singer performed before a record-breaking audience of 175,000 people, a World's Record he held for nearly a decade.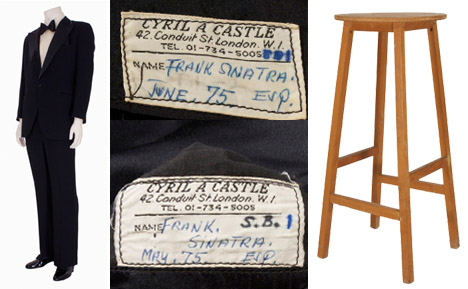 In 1981 Mr. Castellano assisted Sinatra during the filming of "The First Deadly Sin", his last performance in a major motion picture. Notable wardrobe items worn by Sinatra in the film include his signature fedora, trench coat, and custom made Brooks Brothers shirt and tie.
Mr. Castellano received these items in appreciation for his services prior to leaving Mr. Sinatra's employ in 1981. Each piece is fully documented and authenticated by Mr. Castellano.
Leave a Reply
You must be logged in to post a comment.