New Featured Item: Jerome Littlefield (Jerry Lewis) custom Sy Devore suit worn in "The Disorderly Orderly"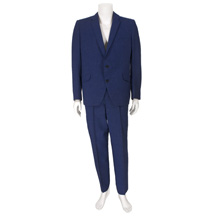 This two-piece suit was worn by "Jerome Littlefield" (Jerry Lewis) in the 1964 comedy classic "The Disorderly Orderly". The garments were custom made for Mr. Lewis by legendary "tailor to the stars" Sy Devore and are complete with the original tailoring labels sewn inside. A rare artifact from one of Hollywood's greatest funnymen!
CLICK HERE FOR MORE DETAILED IMAGES AND PURCHASING INFORMATION
Leave a Reply
You must be logged in to post a comment.