New Featured Item: Driver (Ryan Gosling) rabbit's foot keychain and keys used in "Drive"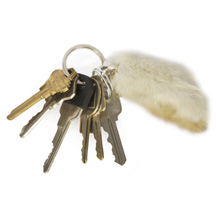 This rabbit foot keychain and set of prop keys were used by the character "Driver" portrayed by actor Ryan Gosling in the film "Drive". These were Driver's keys used in scenes when driving his Chevy Chevelle Malibu and can also be seen in the official trailer for the film.
CLICK HERE FOR MORE DETAILED IMAGES AND PURCHASING INFORMATION
Leave a Reply
You must be logged in to post a comment.