New Featured Item: Cherie Curry (Dakota Fanning) complete outfit worn in "The Runaways"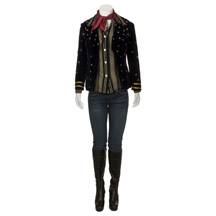 This  costume was worn by the character "Cherie Curry" portrayed by actress Dakota Fanning in the film "The Runaways". The actress wore the garments in different combinations in several key scenes from the film, and the boots were also briefly worn by the character "Joan Jett" (Kristen Stewart) in an additional scene from the film.
CLICK HERE FOR MORE DETAILED IMAGES AND PURCHASING INFORMATION
Leave a Reply
You must be logged in to post a comment.