New Featured Item: Bernie (Albert Brooks) straight razor used in "Drive"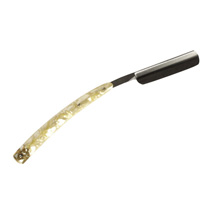 This straight razor was used by the character "Bernie Rose" portrayed by actor Albert Brooks in the 2011 film "Drive" starring Ryan Gosling. This prop appeared notably in the scene where Bernie slashes the arm of "Shannon" (played by "Breaking Bad" star Bryan Cranston). A true signature prop item from one of the greatest action films of the year.
CLICK HERE TO VIEW MORE DETAILED IMAGES AND PURCHASING INFORMATION
Leave a Reply
You must be logged in to post a comment.