Featured Story: The Golden Closet presents Celebrity Couture
The Golden Closet is proud to honor the fashion and costume designers who create the iconic looks and styles of Hollywood's leading men and women with the new "Celebrity Couture" section of our website. Click on the banner below to view the collection.
A centerpiece of our collection is an original Charles James design worn by actress Angelina Jolie in the film "The Tourist". James has been referred to as "America's First Couturier", and the garment was one of a limited series he designed for the Samuel Winston line in the 1950's. This award winning designer's work has been featured in exhibitions and retrospectives at The Brooklyn Museum and Art Institute of Chicago, The Fashion Institute of Technology, and in the permanent collection of London's Victoria and Albert Museum.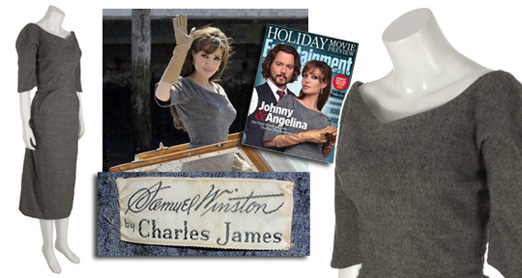 Another featured item is the vintage black cocktail dress worn by actress Gloria Swanson. The garment was created by "Scaasi", a favorite designer of Presidential First Ladies and members of Hollywood's elite who created original garments for clients ranging from Mamie Eisenhower and Laura Bush to Joan Crawford and Lauren Bacall.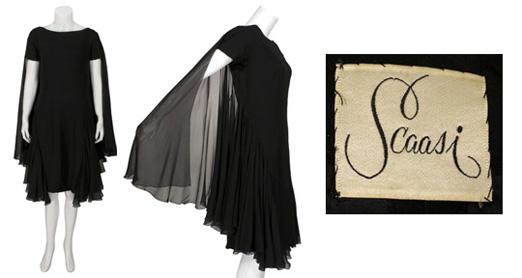 No discussion of Celebrity Couture would be complete without mentioning famed costume designer Edith Head, whose iconic designs clothed Hollywood's most glamorous actors and actresses and defined contemporary fashion for several decades. Edith Head was a designer for both Paramount and Universal studios and won eight Academy Awards over the length of her career, more than any other female in the entertainment industry to date.
Ms. Head's designs were worn by such noted actresses as Dorothy Lamour, Ginger Rogers, Bette Davis, Elizabeth Taylor, Grace Kelly, Audrey Hepburn, and countless others.  Several of her designs appear in our collection, such as Barbara Stanwyck's riding coat worn in 1946's "The Bride Wore Boots", items created for Joanne Woodward in the 1963 film "A New Kind of Love", and Betty Grable's glamorous floor length gown worn in 1937's "This Way Please".
Our Celebrity Couture collection also includes men's fashion designs, and when it came to class and style, no one did it "His Way" more than Frank Sinatra. Mr. Sinatra had couture garments custom tailored by the most skilled designers in the industry. One of the items in our Sinatra collection is his Jay Lord fedora worn in "The First Deadly Sin". Jay Lord Hatters operated for over 50 years as the premier men's milliner during the fashion's peak, and was the last custom hat maker in NYC that provided custom designs to celebrity clients before transitioning into more economically practical mass produced designs in the late 1980's.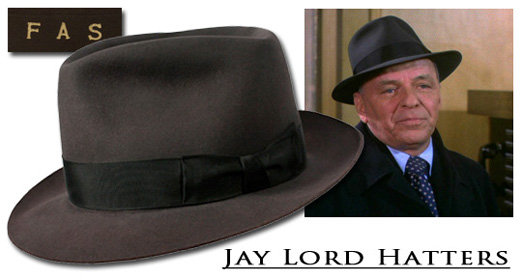 Our collection also includes a pair of Sinatra's boots created by Pasquale Di Fabrizio, the cobbler known as "The Star's Shoemaker", who has created footwear for such celebrities as Dean Martin, Michael Jackson, Sylvester Stallone, and numerous others.
We have several designs created by Sy Devore, known as "The Tailor To The Stars", who created custom garments for all the members of the infamous Las Vegas "Rat Pack", entertainers like Bing Crosby, Rock Hudson, Spencer Tracy, Nat King Cole, and even Presidents John F. Kennedy and Lyndon Baines Johnson. We currently feature two suits he designed for actor/comedian Jerry Lewis that were worn in the comedy classics "The Disorderly Orderly" and "The Geisha Boy".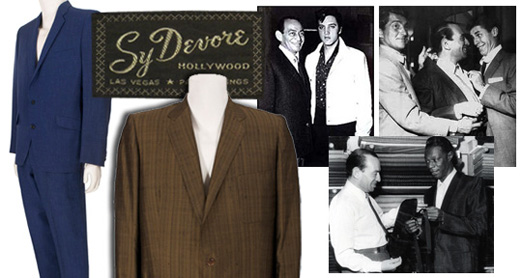 Anto Shirtmakers of Beverly Hills has provided exquisite custom tailored shirts to Hollywood's leading men for over five decades, with clients ranging from Al Pacino, Robert De Niro, Robert Redford, to Harrison Ford, Sam Rockwell, and Daniel Craig in "Cowboys And Aliens", and provided Johnny Depp's "red carpet" shirt worn at the 2010 68th Annual Golden Globes Award ceremonies earlier this year.
Also featured are premier menswear designs used on the hit television show "The Sopranos", including Tony Soprano's Ralph Lauren suit from Season 5, Paulie Walnut's Pierre Cardin double-breasted suit, Johnny Sacrimoni's Louis Dell Olio sports coat, and others. 
The catwalks of Paris, Rome, London, and New York have always shared a special relationship with Hollywood studios in defining contemporary fashion around the globe. Couture designs worn by top celebrities become permanent landmarks in the history of fashion that inform and inspire designers to create the looks of tomorrow. The Golden Closet is pleased to honor the designers and entertainment industry professionals who have earned their rightful place in shaping popular culture.
More items are coming to the Celebrity Couture section of our website soon, so bookmark our site for the latest in vintage and contemporary iconic garment design.
CLICK HERE TO VISIT THE GOLDEN CLOSET'S CELEBRITY COUTURE COLLECTION
Leave a Reply
You must be logged in to post a comment.