Featured Item: Tom Bishop (Brad Pitt) suede jacket worn in "Spy Game"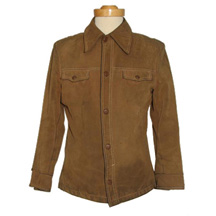 This suede jacket was worn by the character "Tom Bishop" portrayed by actor Brad Pitt in the movie "Spy Game". Bishop wore this jacket in several key scenes of the film when he receives espionage training from his mentor "Nathan Muir" (played by Robert Redford).
CLICK HERE FOR MORE DETAILED IMAGES AND PURCHASING INFORMATION
Leave a Reply
You must be logged in to post a comment.