New Featured Item: "Quark / Herbert Rossoff" (Armin Shimerman) suit worn in Star Trek: Deep Space 9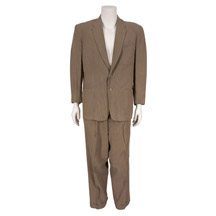 This vintage two-piece suit was worn by the character "Herbert Rossoff" (AKA "Quark") in the television series "Star Trek: Deep Space 9". Mr. Shimerman wore this in the episode "Far Beyond The Stars" (Season 6, Episode 13), which was a highly unusual landmark episode in which he performed as a human character without his usual Ferengi alien make up.
CLICK HERE FOR MORE DETAILED IMAGES AND PURCHASING INFORMATION
Leave a Reply
You must be logged in to post a comment.