Featured Item: "Ray Charles" (Jamie Foxx) costume worn in the film "Ray"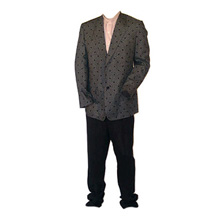 This costume change was worn by actor Jamie Foxx in his Oscar winning portrayal of musical legend Ray Charles in the film "Ray". The outfit consists of a custom made jacket, custom made shirt, and original pair of vintage 1950's pants.
CLICK HERE FOR MORE DETAILED IMAGES AND PURCHASING INFORMATION
Leave a Reply
You must be logged in to post a comment.