Featured Item: Sheeva (Marjean Holden) signature red bodysuit from Mortal Kombat 2: Annihilation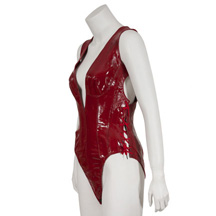 This red bodysuit was worn by the character "Sheeva" (Marjean Holden) in the film "Mortal Kombat 2: Annihilation". The suit has evidence of distress from its use in one of the action sequences and is accompanied by a letter of authenticity.
CLICK HERE FOR MORE DETAILED IMAGES AND PURCHASING INFORMATION
Leave a Reply
You must be logged in to post a comment.