New Featured Item: Martin Riggs (Mel Gibson) badge holder with LAPD ID card from "Lethal Weapon 3"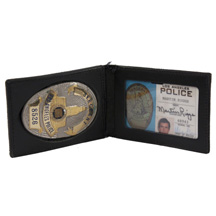 This leather badge holder with Sgt. Shield and LAPD I.D. card was used by "Martin Riggs" (Mel Gibson) in the film "Lethal Weapon 3". The badge holder was used in a key action sequence of the film when Gibson's roughed up by a group of thugs, and the the actor also wore the ID card in numerous scenes at the LAPD police station while appearing with co-stars Danny Glover, Renee Russo, and others. This is an iconic signature piece from one of the most popular action comedy franchises of all time, and was acquired directly from the film's property master.
CLICK HERE FOR MORE DETAILED IMAGES AND PURCHASING INFORMATION
Leave a Reply
You must be logged in to post a comment.