Featured Item: "Jade Tan" (Katherine Hepburn) tunic worn in "The Dragon Seed"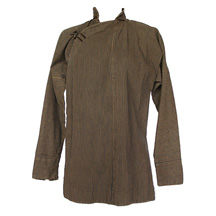 This Asian style period tunic was worn by the character "Jade Tan" portrayed by legendary actress Katherine Hepburn in the 1944 motion picture "The Dragon Seed". The actress's name is handwritten inside and the garment is accompanied by a letter of authenticity.
CLICK HERE FOR MORE DETAILED IMAGES AND PURCHASING INFORMATION
Leave a Reply
You must be logged in to post a comment.