Featured Item: Original Production Book for Michael Jackson's "Black or White" video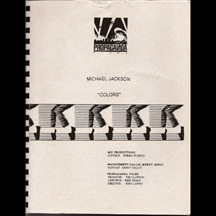 This original production booklet for Michael Jackson's groundbreaking "Black or White" video includes a full script, shooting schedule, photocopied storyboards, crew lists, location list and map, and calendar of events for primary filming. This rare artifact provides fascinating insights into the "behind the scenes" making of the video and will make an impressive addition to any collection of music memorabilia.
CLICK HERE FOR MORE DETAILED IMAGES AND PURCHASING INFORMATION
Leave a Reply
You must be logged in to post a comment.