New Featured Item: Victor Drazen (Dennis Hopper) costume worn in "24"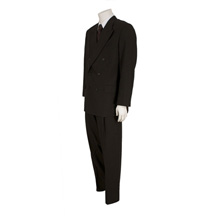 This complete costume change was worn by the character "Victor Drazen" portrayed by legendary actor Dennis Hopper in the first season of the award winning series "24". This was Drazen's signature outfit worn in the latter part of the season up until his death at the hands of an enraged Jack Bauer (Kiefer Sutherland). The garments are in excellent condition and are accompanied by a letter of authenticity from the show's costume supervisor.
CLICK HERE FOR MORE DETAILED IMAGES AND PURCHASING INFORMATION
Leave a Reply
You must be logged in to post a comment.