New Featured Item: Original production script from the Elvis Presley film "The Trouble With Girls" (Chautauqua)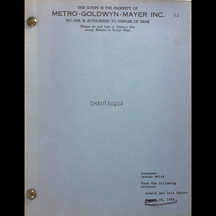 This is an original production draft script for the 1969 Elvis Presley classic "The Trouble With Girls". The front cover has the film's original working title "Chautauqua" on the cover and original draft date of "Aug. 28, 1968" was crossed out with new date of "Oct. 28-68" handwritten inside. A rare artifact from The King of Rock and Roll's film career!
CLICK HERE FOR MORE DETAILED IMAGES AND PURCHASING INFORMATION
Leave a Reply
You must be logged in to post a comment.