The Golden Closet's "Featured Actor of the Month" Denzel Washington
Not only one of The Golden Closet's favorite actors, but one of the most celebrated actors in American film history. Denzel Washington is known among fans and his peers for his engaging and powerful performances. Throughout his career he has been regularly praised by critics, and his consistent success at the box office helped to dispel the perception that African American actors could not draw mainstream white audiences.
After graduating from high school, Denzel enrolled at Fordham University intent on a career in journalism. We can thank, in part, a sophomore professor who encouraged Denzel to pursue a career in acting.  After Denzel graduated from Fordham University(B.A. 1977),he began to pursue acting as a career and joined the American Conservatory Theater in San Francisco. There he studied under the renowned Bill Ball but, after a year, he grew restless for work. He returned to New York and was snapped up by the famed theatrical producer and director, Joseph Papp, head of the New York Shakespeare Festival.
After several successful stage performances, he made his screen debut in the comedy Carbon Copy (1981). In the film, Denzel plays the black teenage son of a white  corporate executive.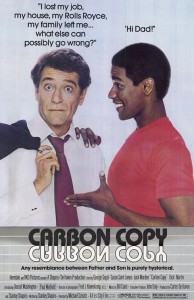 After filming wrapped Denzel returned to New York and the stage to play in A Soldier's Story with the Negro Ensemble Company. The play was about a black soldier found dead outside a military base in Louisiana. It was this performance that captured the attention of execs at NBC who later cast Denzel as insecure, young resident Dr. Phillip Chandler in a new series called St. Elsewhere.  He was one of only a few African American actors to appear on the series through its entire six-year run.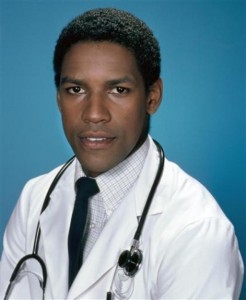 During his summer breaks from St. Elsewhere Denzel slowly began breaking into more serious films and earning a reputation as a consistent, passionate actor.  In 1987 Cry Freedom was released to critical rave. Denzel earned his first of five Oscar-nominations playing South African anti-apartheid political activist Steven Bilko. Two years later Washington won the Academy Award for Best Supporting Actor for playing a defiant ex-slave in the film Glory (1989).
Washington's skill as an actor and his popular appeal as a leading man were firmly established in the 1990s. He gave memorable performances in the romantic comedy Mississippi Masala (1991), the Shakespearean comedy Much Ado About Nothing (1993), the courtroom drama Philadelphia (1993), the mystery Devil in a Blue Dress (1995), and the military thriller Crimson Tide (1995). The latter was the first of several popular movies he made with director Tony Scott. During this time he also frequently worked with director Spike Lee, starring in Mo' Better Blues (1990), He Got Game (1998), and most significantly Malcolm X (1992). Portraying the civil rights activist Malcolm X, Washington gave a complex and powerful performance and earned an Academy Award nomination for best actor. He received a second best-actor nomination for his portrayal of boxer Rubin Carter in The Hurricane (1999).
Denzel in the 90's\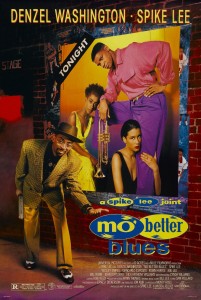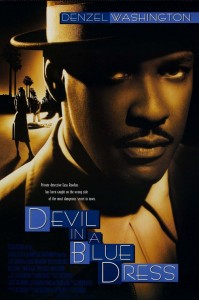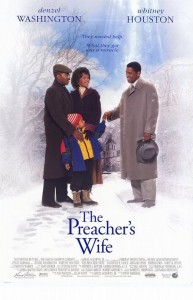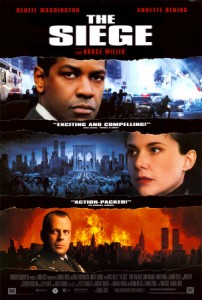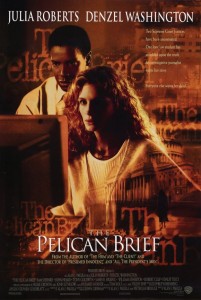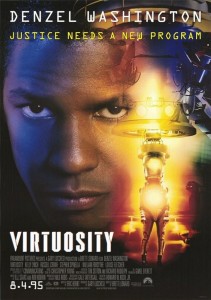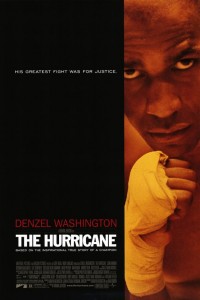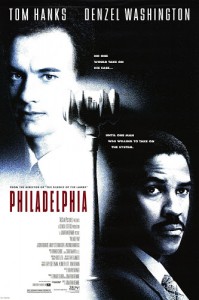 Denzel Washington finally won the Academy Award for best actor playing a dirty cop in the 2001 film Training Day. He continued to define his onscreen persona as the tough, no-nonsense hero through the 2000s in films like Inside Man (2006), The Book of Eli (2010), The Taking of Pelham 123 (2009), and Safe House (2012). 

Denzel in the 00's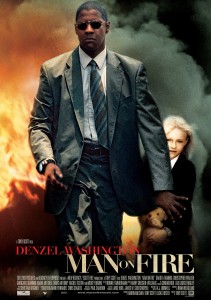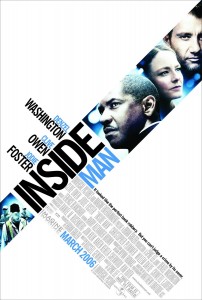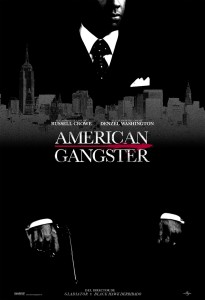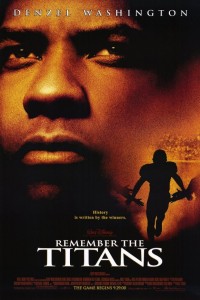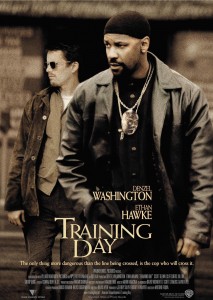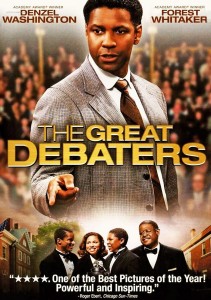 Denzel Washington's career has shown no signs of slowing down. In 2010, Mr. Washington added Tony award-winner to his resume for playing Troy Maxson in the Broadway revival of August Wilson's Fences, opposite Viola Davis. He followed that up with another Oscar nomination for playing Whip Whitaker in Flight (2012). He can next be seen in the 2014 action film The Equilizer based on the television series of the same name.
Want to own a piece of movie memorabilia from one of your favorite Denzel Washington films? Here is what we currently have in our store.
From Mr. Washington's 1995 film Virtuosity, The Golden Closet has the futuristic "V.R." police uniform worn by his character "Patrick Barnes." The outfit consists of a blue leather tunic, matching pair of laced cuff pants, leather visor cap, a pair of black leather gloves, and a pair of dark brown leather boots. The tunic, pants and cap were custom made for Mr. Washington's use on the production of the film!
From Mr. Washington's Oscar-nominated role in the 1999 biopic The Hurricane where he plays real-life Rubin 'The Hurricance' Carter, The Golden Closet has two outfits available for you to add to your collection. First, are cream and black satin boxing shorts custom made for Mr. Washington by Eric Winterling Inc., New York. The shorts are accompanied by a white terry cloth robe that has been slightly aged for production.
The next item from The Hurricane (1999) that we have for sale at The Golden Closet are the cream silk sports coat, black wool slacks and double-breasted vest worn by Mr. Washington during a pivotal scene in the film. (The shirt and tie are for display purposes only!)
American Gangster (2007), the true story of Frank Lucas, is where we find our next costume. In this film Mr. Washington plays the title character, Frank Lucas, and where this custom-made suit by Leonard Logsdale. (The shirt, tie and pocket square are for display purposes only!)
And, finally, from Mr. Washington's latest Oscar-nominated role as Captain 'Whip' Whitaker in the 2012 film Flight we have two different listings from you to choose from. First up are the screen-used Serengeti sunglasses seen featured throughout the film. The sunglasses are accompanied by a custom leather case.
And then from the film, we have Captain 'Whip' Whitaker's complete pilot costume consisting of  a coat, captain's wings, white short sleeve shirt with shoulder boards, pant, belt, and hat. The shoes were purchased for Mr. Washington but were never worn and are for display purposed only.
If you are interested in any of the items shown here then please email us at info@thegoldencloset.com. Please note that each item will come with a Certificate of Authenticity!
The Golden Closet has previously sold items from three other Denzel Washington films:
Courage Under Fire (1996)
The Siege (1998)
The Book of Eli (2010)
We'd like to leave you with some fun facts about Mr. Denzel Washington that you may find interesting~
At the age of 11, Denzel Washington earned $11 a day sweeping hair at a barbershop. He says his first job prepared him for his career in acting, "The best liars are in the barbershop."
Mr. Washington is a spokesperson for the Boys & Girls Club of America. Having been a member once himself, he credits the club for keeping him out of trouble growing up.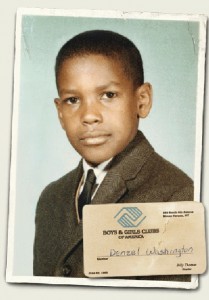 His performance as Malcom X in the film of the same name is ranked #17 on Premiere Magazine's "100 Greatest Performances of All Time" (2006).
Mr. Washington even named his son Malcolm in honor of Malcolm X.
Denzel claims his personal favorite performances are his works in Cry Freedom (1987), Glory (1989), Malcolm X (1992), and Training Day (2001).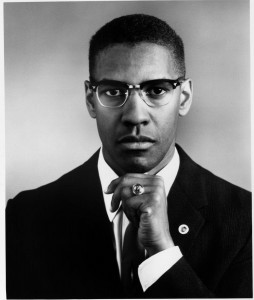 Tom Hanks said working with Washington on Philidelphia (1993) was like "going to film school". Hanks said he learned more about acting by watching Denzel than from anyone else.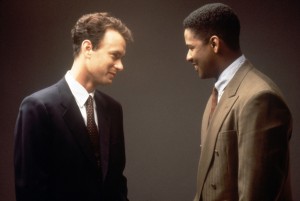 Mr. Washington named Gene Hackman, Angelina Jolie and Dakota Fanning as the most talented actors he's ever worked with!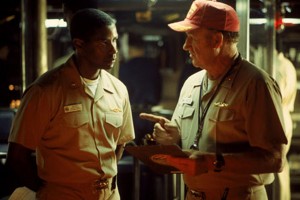 On Mr. Washington's wish list: To work with Al Pacino, Robert DeNiro, and Martin Scorsese.
Do you know Denzel's biggest regret?! Passing on the role that eventually went to Brad Pitt in Se7en (1995).
If you would like any of the items that we highlighted earlier, please email us at info@thegoldencloset.com. Also, please be sure to follow us on Facebook, Twitter, Instagram and Pinterest.
Leave a Reply
You must be logged in to post a comment.