New Featured Items: Jack Bauer (Kiefer Sutherland) flight suit worn in "24"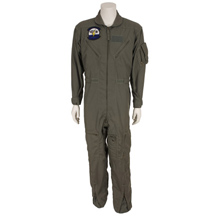 This flight suit with custom patch was worn by "Jack Bauer" (Kiefer Sutherland) in Season 5 of the television series "24". The actor wore this in last episode of the season during the climactic sequence where Bauer commandeers the uniform and impersonates a Marine helicopter pilot in order to kidnap President Logan.
CLICK HERE FOR MORE DETAILED IMAGES AND PURCHASING INFORMATION
Leave a Reply
You must be logged in to post a comment.