New Featured Item: "The Sopranos" Uncle Junior (Dominic Chianese) prop Smith & Wesson used in shooting of Tony Soprano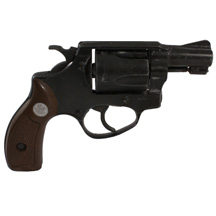 This non-firing prop Smith & Wesson 36 revolver was used by "Uncle Junior" (Dominic Chianese) in the hit television series "The Sopranos". This particular weapon was used during part of the infamous "Shooting of Tony Soprano" episode that kicked off the show's sixth season, and was one of the most talked about events in Sopranos history. The item will be accompanied by documentation from the armorer who supplied the weapon to the production.
CLICK HERE FOR MORE DETAILED IMAGES AND PURCHASING INFORMATION
Leave a Reply
You must be logged in to post a comment.