New Featured Item: "Sid 6.7" (Russell Crowe) signature "Virtual Reality" suit worn in "Virtuosity"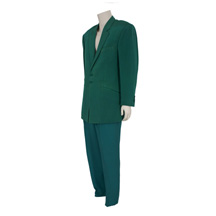 This green two-piece suit was worn by the evil "Sid 6.7" character played by Russell Crowe in the science fiction film "Virtuosity" starring Denzel Washington. This was Sid's signature suit worn during all the "Virtual Reality" sequences before he finally escapes into the "real" world and faces off against Denzel's character "Parker Barnes".
CLICK HERE FOR MORE DETAILED IMAGES AND PURCHASING INFORMATION
Leave a Reply
You must be logged in to post a comment.