New Featured Item: Parker Barnes (Denzel Washington) VR Police Uniform worn in "Virtuosity"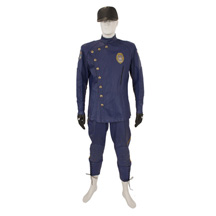 This screen used "VR" Police Uniform was worn by "Parker Barnes" (Denzel Washington) in the film "Virtuosity". The futuristic costume was custom made for the production and still has traces of faux blood visible from its use in the exciting opening sequence of the film when Barnes gets in a gunfight with the evil virtual reality killer "Sid 6.7", played by Russell Crowe.
CLICK HERE FOR MORE DETAILED IMAGES AND PURCHASING INFORMATION
Leave a Reply
You must be logged in to post a comment.