New Featured Item: Sheriff Tawes (Gregory Peck) police uniform from "I Walk The Line"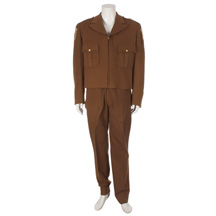 This police uniform was worn by the character "Sheriff Tawes" portrayed by legendary actor Gregory Peck in the 1970 motion picture "I Walk The Line". The outfit was custom made for the actor by Acuna and has the original tailoring tags sewn inside with Gregory Peck's name and production dates clearly typed.
CLICK HERE FOR MORE DETAILED IMAGES AND PURCHASING INFORMATION
Leave a Reply
You must be logged in to post a comment.