New Featured Item: Praetorian Cavalry prop shield used in "Gladiator"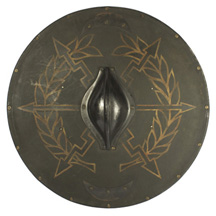 This Praetorian Cavalry prop shield was used in Ridley Scott's Academy Award winning epic "Gladiator" starring Russell Crowe. This rare circular shield was one of a limited number that were custom made for use on the production.
CLICK HERE FOR MORE DETAILED IMAGES AND PURCHASING INFORMATION
Leave a Reply
You must be logged in to post a comment.