New Featured Item: Michael Jackson Super Bowl XXVII "Heal The World" background performer robe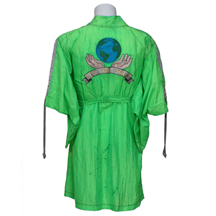 This custom made "Heal The World" robe was worn by a background performer during Michael Jackson's legendary Super Bowl XXVII performance. The robe was originally a prototype made for Mr. Jackson's "Heal The World" charity foundation and is complete with large embroidered logo on the back.
CLICK HERE FOR MORE DETAILED IMAGES AND PURCHASING INFORMATION
Leave a Reply
You must be logged in to post a comment.