Featured Item: Michael Jennings (Ben Affleck) prop pistol from "Paycheck"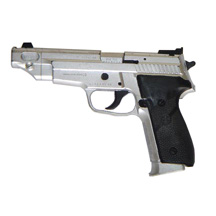 This non-firing prop weapon was used by the character "Michael Jennings" (Ben Affleck) in the 2003 motion picture "Paycheck", directed by Jon Woo. The hard rubber gun with hand painted details was used in a pivotal scene involving one of Woo's trademark "standoffs" and is in very good screen used condition. Accompanied by a letter of authenticity from the film's weapons coordinator.
CLICK HERE FOR MORE DETAILED IMAGES AND PURCHASING INFORMATION
Leave a Reply
You must be logged in to post a comment.