New Featured Item: Katy Perry vintage "Bunny" mask from Elle Magazine cover article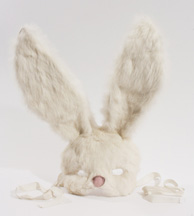 This vintage "Bunny" mask was used by Katy Perry in the cover article of the March 2011 issue of "Elle Magazine". The singer appeared prominently with the mask in three separate images for the pictorial, shot by famed fashion photographer Carter Smith.
CLICK HERE FOR MORE DETAILED IMAGES AND PURCHASING INFORMATION
Leave a Reply
You must be logged in to post a comment.