New Featured Item: Gina Montana (Mary Elizabeth Mastrantonio) prop drug paraphernalia used in "Scarface"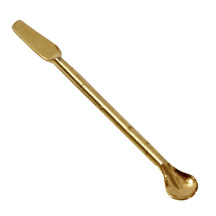 This prop drug paraphernalia was used by "Gina Montana" (Mary Elizabeth Mastrantonio) in the epic gangster film "Scarface" starring Al Pacino. This item appeared on screen during the sequence at the nightclub when Gina's brother "Tony" discovers her doing drugs in a men's bathroom stall with a stranger and goes berserk.
CLICK HERE FOR MORE DETAILED IMAGES AND PURCHASING INFORMATION
Leave a Reply
You must be logged in to post a comment.