New Featured Item: "Esther Blodgett/Vicki Lester" (Judy Garland) Costume Rendering for "A Star Is Born"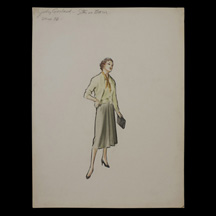 This is an original hand drawn costume sketch of "Esther Blodgett" (Judy Garland) made for the classic 1954 motion picture "A Star Is Born". The beautifully rendered wardrobe design has the costume designer notes "Judy Garland – Star is Born, Scene 56" handwritten in pencil at the top. A truly unique piece of production art from one of Garland's most outstanding performances.
CLICK HERE FOR MORE DETAILED IMAGES AND PURCHASING INFORMATION
Leave a Reply
You must be logged in to post a comment.