New Featured Item: "Eddie Dugan" (Richard Gere) Police Uniform worn in "Brooklyn's Finest"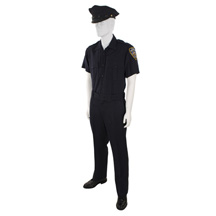 This complete NYPD Police Officer's uniform was worn by "Eddie Dugan" (Richard Gere) in the film "Brooklyn's Finest" starring Ethan Hawke, Wesley Snipes, and Don Cheadle. The costume is complete with the original NYPD patches as seen in the film and is accompanied by a letter of authenticity. A great signature item from the gripping police drama that featured one of Gere's most challenging roles to date.
CLICK HERE FOR MORE DETAILED IMAGES AND PURCHASING INFORMATION
Leave a Reply
You must be logged in to post a comment.