New Featured Item: El Dorado mine treasure map from "The Mask of Zorro".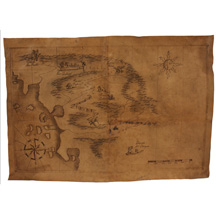 This prop map of the "El Dorado" mine appeared prominently in the film "The Mask of Zorro" starring Antonio Banderas and Anthony Hopkins. The prop was custom made for use on the production and depicts the location of the secret gold mine around which the film's plot revolved. The map is constructed of ink on hand aged leather and is accompanied by a letter of authenticity.
CLICK HERE FOR MORE DETAILED IMAGES AND PURCHASING INFORMATION
Leave a Reply
You must be logged in to post a comment.