New Featured Item: Driver (Ryan Gosling) signature costume worn in "Drive"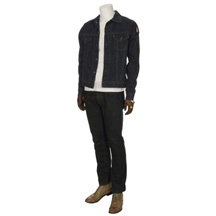 This signature costume was worn by the character "Driver" portrayed by actor Ryan Gosling in the film "Drive". The jacket has a bloody squib hole in the shoulder from its use in the action sequence when Driver is shot, and the boots have applied faux blood on them from their use in scenes after Driver stomps on "Tan Suit" (Jeff Wolfe) in the elevator.
CLICK HERE FOR MORE DETAILED IMAGES AND PURCHASING INFORMATION
Leave a Reply
You must be logged in to post a comment.