New Featured Item: "Dodge Connelly" (George Clooney) screen used pajama set worn in "Leatherheads"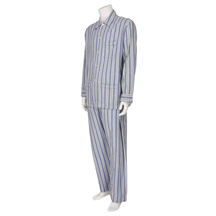 This pair of striped pajamas were worn by the character "Dodge Connelly" portrayed by actor George Clooney in the film "Leatherheads". C0mplete with original costumer's tags attached.
CLICK HERE FOR MORE DETAILED IMAGES AND PURCHASING INFORMATION
Leave a Reply
You must be logged in to post a comment.