New Featured Item: Background Fez from Laurel & Hardy's "Sons of the Desert"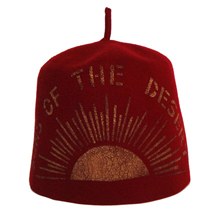 This red fez was worn by one of the background Lodge Member characters in the hilarious 1933 motion picture classic "Sons of the Desert" starring Stan Laurel and Oliver Hardy. The fez is hand painted with the yellow S.O.T.D. logo and is a true piece of motion picture history to add to your collection.
Leave a Reply
You must be logged in to post a comment.