James Georgopoulos "Guns Of Cinema" art exhibit
The Golden Closet is proud to announce that several of our screen used guns are included in an exhibition of artwork by Los Angeles based artist James Georgopoulos. The collection, entitled "Guns Of Cinema", features striking photographic images of iconic movie guns using unique silver gelatin prints with acrylic polymer and resin mounted on wood and aluminum panels. The exhibition is currently on display at the Lurie Gallery in Santa Monica, Ca. through May 14th, 2011.
Breanna Livie of The Golden Closet has been in search of a way to fuse the world of contemporary art with that of iconic entertainment memorabilia. Having always felt that the two fields have the capability to reflect and chronicle popular culture, she was excited for the opportunity to work with Jimmy G.
"Jimmy called me one day and explained that he was an artist and wanted to do a series of unique photographs of movie guns, and requested to shoot the Scarface Grenade Launcher.  I allowed Jimmy to photograph the launcher and within a couple of weeks Jimmy sent me photos of his work in progress. Stretched out on an 8 foot by 5 foot canvas was this enormous black and white image of the replica AR15 with Grenade Launcher that practically protruded out of the canvas. The clarity and depth was so intense that I felt like I could reach into the artwork and pick up the weapon. Jimmy had transformed a three-dimensional object into an amazing piece of art!"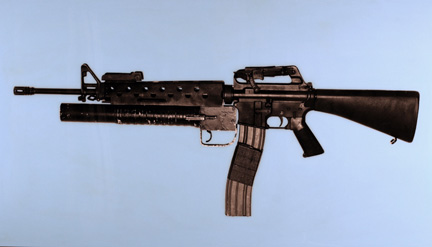 "Jimmy's work was so impressive that I immediately gave him access to all of the weapons in The Golden Closet's collection. Within months he had finalized works for each gun and was in need of more weapons to photograph. I introduced him to a few of our motion picture armor clients so they could assist him in expanding his work."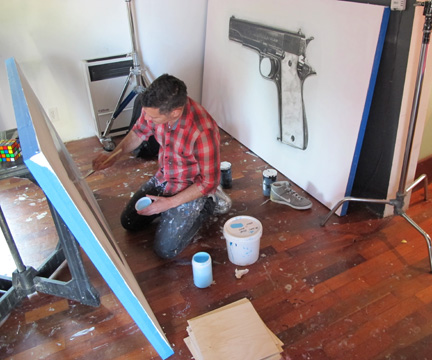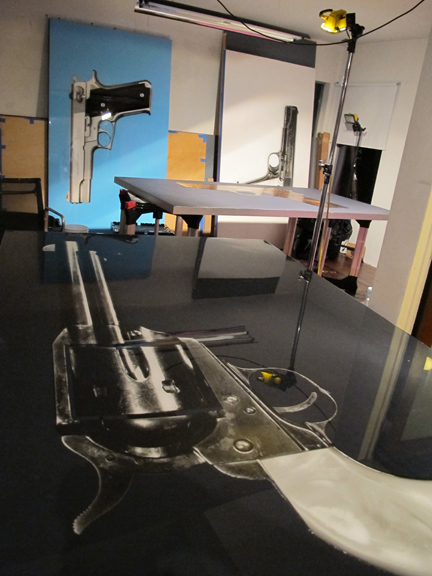 "Jimmy now has produced images of over 47 high profile iconic movie guns to create his dynamic series, 'Guns Of Cinema'.
I am proud to be able to provide Jimmy with these amazing pieces of entertainment history and further preserve, promote, and document cinematic weaponry."
You can view the following pieces at the Lurie Gallery 2801 Main Street Santa Monica, Ca through May 14th:
o     Al Pacino's grenade launcher from "Scarface"
o     Clint Eastwood's Winchester Model 70 from "Dirty Harry"
o     Frank Sinatra's Walther P38 from "The Manchurian Candidate"
o     John Wayne's Mac 10 with suppressor from "McQ"
o     Samuel Jackson's pearl handled Star Model B from "Pulp Fiction"
o     John Travolta's Auto Ordinance 1911 A1 from "Pulp Fiction"
o     James Gandolfini's Glock 19 from "The Sopranos"
o     Angelina Jolie's guns from "Salt" and "Mr. And Mrs. Smith"
o     Don Johnson's Smith & Wesson 645 from "Miami Vice"
Please visit the link below for more information on the artist and the "Guns of Cinema" exhibition:
Leave a Reply
You must be logged in to post a comment.