Featured Story: The Internet Movie Firearms Database
For over a decade, the Internet Movie Firearms Database (IMFDB) has provided prop and live firing weapon collectors with information on all their favorite screen used weapons. The open source Wiki site allows prop collectors and gun enthusiasts alike to submit their own content, create picture albums, hold discussions in their forum, and learn more about the art of cinematic weaponry.
The Golden Closet has several of our iconic screen used weapons currently featured on their site. Some of the items these items include "Tony Montana's" screen used "Little Friend" grenade launcher and Beretta pistol with silencer used in "Scarface", "The Terminator's" grenade launcher from "Terminator 3", and a selection of weapons used in "Salt" starring Angelina Jolie, among others.
Several items from our collection of television weaponry are also included, such as Kiefer Sutherland's signature Heckler & Koch USP Compact 9mm used in "24", and "Uncle Junior's" Smith and Wesson revolver used to shoot "Tony Soprano" in the opening episode  of "The Sopranos" Season 6.
The IMFDB is a valuable research tool for collectors looking to authenticate or identify screen used weapons to add to their collection, or simply learn more about iconic guns from cinematic history. Membership is free and the site administrators maintain a friendly and professional environment for film and television fans to contribute to and exchange information. The Golden Closet is proud to be affiliated with the IMFDB community and encourages other members of the collecting community to participate.
To learn more about the IMFDB or become a member, please visit their site at: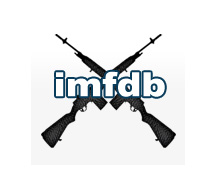 To view our complete collection of currently available prop and blank firing weapons, please visit the Props section of our website at THIS LINK

Leave a Reply
You must be logged in to post a comment.