Featured Item: William Travilla original costume sketch for "Evita Peron" (TV)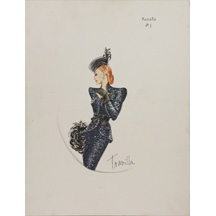 This is an original costume rendering created and signed by legendary designer William Travilla for the television biopic "Evita Peron" starring Faye Dunaway in the title role. The rendering is of a costume created for the character "Renata Riguel" played by Rita Moreno. An amazing artifact of fashion and entertainment history that's ideal for display.
CLICK HERE FOR MORE DETAILED IMAGES AND PURCHASING INFORMATION
Leave a Reply
You must be logged in to post a comment.