Featured Item: Mathayus (The Rock) scimitar used in "The Scorpion King"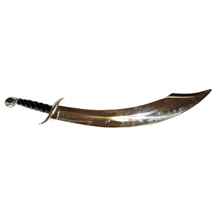 This steel scimitar with black leather bound hilt was used by the character "Mathayus" played by Dwayne Johnson (AKA The Rock) in the 2002 motion picture  "The Scorpion King". This heavy screen used sword will make a great addition to any collection of screen used weaponry and is accompanied by a letter of authenticity.
CLICK HERE FOR MORE DETAILED IMAGES AND PURCHASING INFORMATION
Leave a Reply
You must be logged in to post a comment.