New Featured Item: Set of production used continuity books from "24"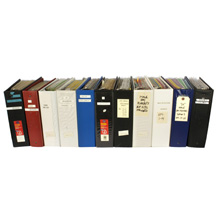 This set of eleven continuity books were used during production of the television series "24". Highlights of the collection include numerous one of a kind polaroid photographs of principle characters such as "Jack Bauer" (Kiefer Sutherland), "President Palmer" (David Haysbert),  and others with extensive production notes revealing behind the scenes details on the production. Also included is a book of "The Dead" with photos and notes on characters who either died or were killed in Season 2 of the hit series. A truly unique artifact for any fan of the hit show.
CLICK HERE FOR MORE DETAILED IMAGES AND PURCHASING INFORMATION
Leave a Reply
You must be logged in to post a comment.