New Featured Item: "Raptor" torso armor from "Mortal Kombat: Annihilation"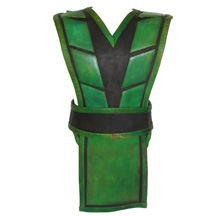 This set of green vinyl torso armor with matching wraparound belt was worn by one of the "Raptor" characters in the film "Mortal Kombat: Annihilation". The costume was seen prominently onscreen during the fight/stunt sequence when Lord Rayden (James Remar) does battle with the Raptors in the underground cavern.
CLICK HERE FOR MORE DETAILED IMAGES AND PURCHASING INFORMATION
Leave a Reply
You must be logged in to post a comment.