New Featured Item: Principal "Hero" prop machine gun used in "Die Hard" AND "Lethal Weapon 2"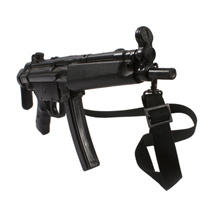 This prop HK MP5L machine gun was used by "John McClane" (Bruce Willis) in the original "Die Hard" AND ALSO used by "Martin Riggs" (Mel Gibson) in Lethal Weapon 2. This is a truly unique collectible with the distinction of having been used by principal hero characters in two of the most popular action franchises of all time! The gun was acquired directly from the armorer who supplied and personally oversaw its use on both productions.
CLICK HERE FOR MORE DETAILED IMAGES AND PURCHASING INFORMATION
Leave a Reply
You must be logged in to post a comment.