New Featured Item: Penny Chenery (Diane Lane) costume worn in "Secretariat"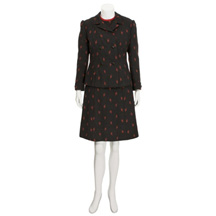 This sheath dress with matching jacket was worn by "Penny Chenery" (Diane Lane) in the 2010 motion picture "Secretariat". The garments were seen onscreen during a pivotal scene near the beginning of the film and have the original costumer's tag attached.
CLICK HERE FOR MORE DETAILED IMAGES AND PURCHASING INFORMATION
Leave a Reply
You must be logged in to post a comment.